This page is not the official site of the Embassy of Brazil in Washington nor of any of the Consulates of Brazil in the United States. The Brazil Consulate in San Francisco provides Brazilian nationals and U.S. citizens or foreign nationals residing in the U.S. with passport and visa services. The Brazilian Embassy imposes a "Jurisdictional" visa processing requirement meaning that the applicant may only submit an application within the jurisdiction they reside. The Brazilian Consulate also allows for processing by private expediting companies (Brazil Visa Service provided by ItsEasy, a private visa service). The Brazil Embassy has strict visa application submission procedures that vary from jurisdiction. To locate the Brazil Embassy or Consulate office closest to you, please review the links to the right.
Brazil Embassy Visa Services
To obtain Brazil visas through the Brazil Consulate in San Francisco or any of the Brazil Consulate offices located throughout the country, applicants may process visa documents through a private visa expediting service. In some cases it may be possible for the applicant to obtain faster service by scheduling an appointment (if available) and visiting a consulate in person.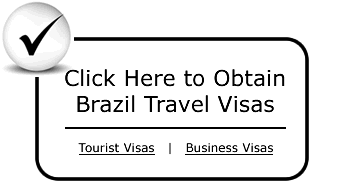 Consulate of Brazil Consulate in San Francisco
For addition questions regarding the Brazil Consulate in San Francisco or any services provided by the Brazil Consulate in San Francisco, please visit the Brazil Embassy's web site for details (http://saofrancisco.itamaraty.gov.br/). This site provides information regarding the Brazil Embassy and the Brazil Consulate Consulate in San Francisco in relation to Brazil visa services. Visa related questions may be answered by calling ItsEasy at 1-866-487-3279. Thank you for visiting our Brazil Embassy information page.
Jurisdiction:
Oregon, Washington, Alaska and in the State of California, the counties of Alameda, Alpine, Amador, Butte, Calaveras, Colusa, Contra Costa, Del Norte, El Dorado, Fresno, Glenn, Humboldt, Inyo, Kings, Lake, Lassen, Madera, Marin, Mariposa, Mendocino, Merced, Modoc, Mono, Monterey, Napa, Nevada, Placer, Plumas, Sacramento, San Benito, San Francisco, San Joaquin, San Mateo, Santa Clara, Santa Cruz, Shasta, Sierra, Siskiyou, Solano, Sonoma, Stanislaus, Sutter, Tehama, Trinity, Tulare, Tuolumne, Yolo, and Yuba